A shading technique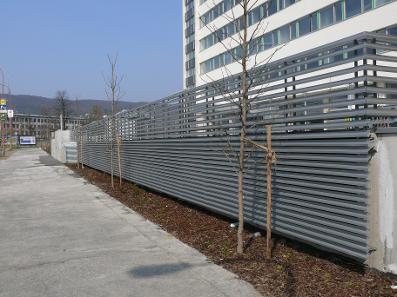 It serves to regulate or limit the transmission of sunlight into the building. We offer you different kinds of blinds, and sun shades.
Atypical solid blinds
We make atypical blinds according to project documentation, or to elaborate a draft resolution submitted in cooperation with the customer
atypical blinds are suitable for example. for:
vent shaft COVER
vent openings in structures
garage ventilation
optical separation of the premises to be opaque
vent doors and parts of the fences and the like.
Atypical blinds are usually encased within a fixed frame consisting of as-rolled profiles. Are manufactured in widths and tilt the plates according to the wishes of the customer.
Standard solid blinds
We deliver and assemble standard Venetian blinds-masking system Luxalon fy Hunter Douglas.
The slats are manufactured from 0.6 mm plate Hunter Douglas solid blinds-hardened AL-alloy which is equipped with a protective coating with Teflon effect Luxacote (repels dirt).
These types of blinds are often used as a garage, or cover the VENTILATION equipment overlay.
Adjustable Sun screens
We offer adjustable Aerofoil Luxalon Sun screens 200/400 or 200/400-masking system Luxalon Aerowings Luxalon fy Hunter Douglas.
Luxalon Sun screens use Panel in the shape of the wing profile and the curved Aerofoil together so the optimal efficiency with anti radiation stable and futuristic look.
Sun screens combine optimum solar efficiency with an elegant Aerowings Luxalon and futuristic look.
Both systems are designed as adjustable Sun screens and can be fitted as fixed in the angle from 0 to 180 degrees in step 5 degrees, or as adjustable motor-with the possibility of management in the control system of the building.