Aluminum construction
We deliver and assemble aluminum construction company (SRN) Schueco the world's leading manufacturer of aluminium systems. All of the system before the start of the production subject to demanding test processes are solutions that give a guarantee that the finished products will be at the top level, capable of long term smooth operation. For the final quality of the works is crucial not only to the quality of the product only, but also of its incorporation into the design. We are 100% fair certificate installation.
hlinikove vyplne otvorov
Hliníkové konštrukcie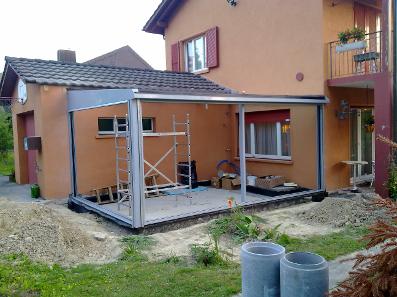 zimne zahrady
Advantages of aluminium structures
high durability
flame resistance
the strength of the
excellent thermal insulation sound-insulating properties
resistance to weather conditions
high aesthetic value
Aluminum fill holes
Windows (screens, folding-screens, swinging, sliding)
The door (screens, sliding)
Fixed glassing
Fire-fighting
Winter garden
The winter garden creates a new full-fledged living space in your house, which can be designed as heated or unheated, depending on the purpose of use. In the case of heated spaces, we provide conservatories made of aluminum profiles with an interrupted thermal bridge, which meets all the requirements of thermal technical standards for living spaces.
Skylights are used for direct lighting and ventilation of industrial halls, administrative, civil and residential buildings, cottages, etc. They are suitable for all types of flat roofs and roofs with a small slope.
Glazed AL facades
The façade of the building is the main means of expression of the building and at the same time it must meet high demands for protection against the weather and ensure the thermal – technical parameters of the building.
Facades can be solved:
column-partition
semi-structural
structurally
deployable